"Louisiana Trust Law from 1882 to 2018 … and Beyond"
Date:
Monday, May 14, 2018
Location:
Galatoire's-209 Bourbon St, New Orleans, LA 70130
Speaker:
Ron J. Scalise, Jr.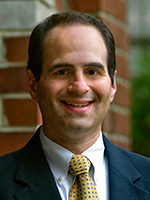 The History of Louisiana Trust Law from 1882 to 2018 … and Beyond
Ronald J. Scalise Jr.
Summary
The history of trust law in Louisiana is both unique and uneasy. From its earliest days as a state, Louisiana exhibited a hostility and resistance to the Anglo-American idea of the trust. Despite structure barriers in Louisiana law to reception of the trust, Louisiana jurisprudence and legislation began to facilitate trust-like donations in the charitable context as early as the 19th century. Reception of the private trust, however, did not occur until the 20th century and then only through a series of increasingly comprehensive statutory enactments beginning in the 1920s, followed shortly thereafter by the Trust Estates Act of 1938, and culminating in the enactment of the Louisiana Trust Code of 1964. Since 1964, the Louisiana Trust Code has been modified and amendment a number of times to keep apace of national and international developments in this area. This process of on-going revision and amendment continues today through the work of the Louisiana State Law Institute's Trust Code Revision Committee.
Outline
Introduction
Early Hurdles to Reception of the Trust in Louisiana

Civil Law Resistance to Bifurcated Ownership
Louisiana's Prohibition on Substitutions and Fidei Commissa

Early Days of Louisiana's Experiment with Trust-like Donations: Pre-1852

State v. McDonogh's Executors, 8 La. Ann. 171 (1853)
Milne's Heirs v. Milne's Executors, 17 La. 46 (1841)

Louisiana's First Statutory Experiment with the Trust: 1882 - 1920

Act 124 of 1882
Succession of Kernan, 52 La. Ann. 48 (1899)
Succession of McCloskey (1900)

Louisiana's First Statutory Experiment with the Private Trust: 1920 – 1938

Act 107 of 1920
Basic Features of the Rudimentary Law on Private Trusts
Repeal in 1935

Louisiana's First Comprehensive Statutory Trust Enactment: The Trust Estates Act of 1938

Background to the Trust Estates Act of 1938
Highlights of the Trust Estates Act of 1938
Lowlights of the Trust Estates Act of 1938
V. Louisiana's Experience with a Modern Trust Law
a. The Trust Code of 1964: Main Features
i. Separate Beneficiaries of Income and Principal; Successive Income Beneficiaries
ii. Invasion of Principal
iii. Investment Authority of Trustee
iv. Recognition of Class Trusts
v. Modernization of the 1938 Trust Estates Act
b. Developments in Trust Law from 1964-2018
i. Expansion of Class Trusts
ii. Shifting Interest of Principal Beneficiaries
iii. Move from Prudent Man to Prudent Investor Standards
iv. Authorization of Divided Trusteeship
v. Delegation of the Right to Modify
vi. Liberalization of Trust Termination
VI. The Future of Trust Law in Louisiana
Ronald J. Scalise Jr. is the A.D. Freeman Professor of Civil Law at Tulane Law School. He joined the Tulane Law faculty in 2009 and served as Vice Dean from 2012 to 2016. Prior to arriving at Tulane, Professor Scalise served on the faculty of the Louisiana State University Law Center from 2004 to 2009. In 2007, he was awarded the McGlinchey Stafford Associate Professorship there, and, in 2009, he served as Acting Vice Chancellor for Academic Affairs.
While in law school, Professor Scalise served as an Articles Editor for the Tulane Law Review. After graduation, he clerked on the U.S. Court of Appeals for the Fifth Circuit for Judge James L. Dennis and then worked as an associate in the New Orleans law firm of Stone Pigman Walther Wittmann, LLC. He pursued his LL.M. at Trinity College, Cambridge University, on a Gates Fellowship.
During his time in practice and in academia, Professor Scalise has served on a number of law reform projects and on projects related to the betterment of the legal profession. He currently serves as reporter for the Trust Code Committee, the Prescription Committee, and the Committee on Aleatory Contracts/Signification of Terms of the Louisiana State Law Institute and as a member of the Council and a committee member of the Successions & Donations Committee as well as over a dozen other subject-matter specific revision committees. From 2013-2015 and again from 2017 to the present, he has served as a member of the Louisiana State Bar Association's Board of Governors. In addition, from 2011-2017, Professor Scalise served on the Louisiana Board of Legal Specialization, including in positions as both Chair and Vice Chair of the Board.
In 2011, he was appointed to serve as an appeals judge in cases contesting decisions made by the BP oil spill compensation system, and in 2012 he was elected as an associate member of the International Academy of Comparative Law. A Board member of the American Society of Comparative Law, Professor Scalise has written extensively on civil law topics, particularly in the area of successions and inheritance. He is also the primary author for the annual updates for five volumes in the Louisiana Civil Law Treatise series on property and obligations. In 2014, he was elected as an academic fellow to the American College of Trusts and Estates Counsel (ACTEC), and in 2015 was given the Leadership in Law Award by New Orleans City Business.