About Us
The New Orleans Estate Planning Council was established in 1965 and now consists of about 140 active members. Until 2000 the membership included Attorneys, Certified Public Accountants, Insurance Professionals and Bank Trust Officers who had been working in various aspects of estate planning for a minimum of three years. In 2000, Certified Financial Planners then Planned Giving Officers were added to our membership. In 2008, an Associate Member category was added.
The Council has five dinner meetings each year at a restaurant on Monday evenings of September, November, January, March and May. The dues of $275 cover all dinner meetings. There is an Initiation Fee of $100.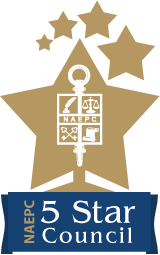 NEW ORLEANS ESTATE PLANNING COUNCIL HAS BEEN HONORED AS A 5 STAR COUNCIL BY THE NATIONAL ASSOCIATION OF ESTATE PLANNERS & COUNCILS (NAEPC)
The New Orleans Estate Planning Council was recognized as a 5 Star Council by the National Association of Estate Planners & Councils as a part of the Leonard H. Neiman and Walter Lee Davis, Jr. Council of Excellence Award program. This honor was created in 2015 to recognize estate planning councils that have demonstrated a high level of achievement in areas critical to a successful membership experience and was awarded to our council in 2015, 2016, 2017 and 2018.
The Council of Excellence Award is named for two individuals who truly sought to strengthen the bond between NAEPC and its affiliated councils during their terms on the board. Walter Lee Davis, Jr. served as president of the association in 2008 and was instrumental in forming the Council Relations Committee, a group of volunteer members who are charged with being a liaison between affiliates and the national association. Leonard H. Neiman served the association as a board member for over fifteen years and worked tirelessly to gather information about estate planning councils from around the country.
The council is a member of the National Association of Estate Planners & Councils, the leading professional organization for estate planners, which provides its 1,800 Accredited Estate Planner® designees, and 260 affiliated local estate planning councils and their 29,000 members with ongoing education and a forum for professional networking. For additional information contact: Administrator, Tara Knowles.